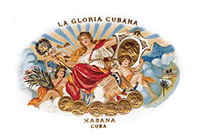 La Gloria Cubana is a little known jewel amongst Habano brands.
Nevertheless it enjoys a long history. Founded in 1885, its name alone clearly defines its origin. For over a century it has attracted a small but loyal following amongst the most knowledgeable smokers.
The brand is characterized by its elegant presentation, especially in the Medaille d'Or Series.
All the vitolas are Tripa Larga, Totalmente a Mano – long filler, totally hand made.