Bartender of the Month – Prakhar Singhal
So what if you aren't a King; here you are still royalty!
Rambagh Palace has been home to generations of royals. This property was built in 1835 for the Queen's favorite handmaiden Kesar Badaran. In 1925 Rambagh was converted into a palace and became the residence of Maharaja of Jaipur which was finally refurbished in 1957 into the beautiful Hotel that we now know as Taj Rambagh Palace.
Imagine a place where history, splendor and tradition unfold effortlessly in from of you. Right from the royal Rajput welcome to the ornate art work, each that holds a story of its own, carefully restored over the years by the very efficient team of Taj which provides a first hand experience of the vibrant culture of the Rajasthanis.   Every evening while you feast upon rich foods served on  gold plated utensils, a right once reserved only for the Maharajas of the world, one can't help but slip back into the Golden era and experience all the romance and glamour of that time.
Every aspect of Taj Rambagh Palace conveys comfort, luxury and royalty and this includes the food and drinks that they serve. While travel has opened up slowly, we understand that a lot of you would still not feel comfortable travelling so we thought we would bring  little bit of the Palace to you.
Their leading Bartender, Prakhar, brings you his favorite cocktail so easy to make at home, yet so elegant it instantly transports you to the palace chambers. His passion is to create with so much flair and taste that it knocks your boots off. There is a saying "When you are at the bar leave it on the bartenders", that stands especially true when you are in middle of your escape from the hectic schedule and want to embrace memories. Try it out the Prakhar style and cherish the moments. Be it Jaipore Martini or classic cocktails. Next time you are at Taj Rambagh Palace, be sure to ask for him.
THE JAIPORE MARTINI
Description :
The Jaipore Martini is one of the signature cocktails of the Rambagh Palace — which is a home base for every cocktail lover in Jaipur. Jaipur is known as the "Pink City" so the cocktail is pale pink to signify it's city of origin. Rose petals also signify the beauty of the Palace, and are displayed everywhere on the property, and make the Palace smell wonderful. A lovely cocktail with flavors of Gin paired with rose to instantly up lift your mood and appeal to your senses.
Ingredients :
Gin 60 ml
Rose Syrup 4 ml
Martini Rosso 2 ml (available at any super market)
Crème de Fraise Liquer 2 ml (available at any super market)
Glass :
Chilled Martini Glass
Method :
Shaken not stirred into a beautiful pink complexion
Garnish :
Rose petals that await their fate in a martini glass.
Directions :
Pour all ingredients in a cocktail shaker. Shake well with ice and pour into a chilled martini glass and garnish with rose petals.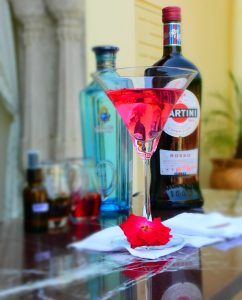 Let us know your thoughts on the drink once you have tried them and stay tuned for another recipe by our favorite mixologist next month