Counterfeit cigars
When you think of Cuba you immediately think of Sunshine, beaches, rum and of course Cigars. There is no doubt that Cuban Cigars are THE original cigars and hence, the demand from connoisseurs and novices alike is so high that most times their production falls far short of the worldwide demand. As you can imagine, this has created a serious problem for the reputation of the Cuban cigar market, with counterfeits making way into the market to fill in the demand and supply gap.
Today, we will address counterfeits as a topic; Identifying originals, Spotting fakes and finally where to buy Cubans that are not fakes.
Here are the authenticating marks that you should look for when buying Habanos
The Cuban Government warranty seal 

The warranty seal is applied on all Habanos boxes. They come with a hologram on each seal as well as an individual bar code that tracks every box production. The bar code allows you to find out if a box is genuine by using the Authenticity Check you will find on Habanos S.A.'s website at www.habanos.com 
Since 1994 all boxes have carried the Habanos seal as a mark of the cigars' denomination of origin. No box of Habanos is shipped from Cuba without it. The seal states that the tobacco used while making the cigars come out of one of four selected vegas – Plantations approved to provide tobacco for a Habanos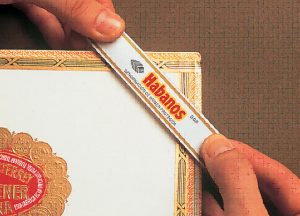 Ink Stamps on the Bottom of the Box
The bottoms of all Habano boxes have been hot-stamped with the words 'Hecho en Cuba'- Made in Cuba and 'Habanos s.a.'.  Nowadays they are additionally marked as shown below:
Totalmente a mano – Totally made by man, long filler
Totalmente a mano TC –  Totally made by man, short filler
Factory stamp
Date of packaging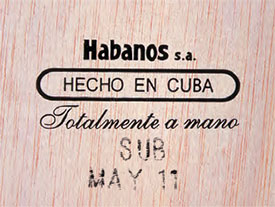 How to identify fakes: To clarify, a cigar can only be fake when it is marketed and sold as a certain brand/ marquee that it doesn't belong to.
Know what you are buying: one of the most common counterfeits you would find in the market is of limited and special editions. It's easy to add a secondary band identifying the year on a regular marquee and sell it further for substantially high prices, however most of these years are mentioned wrong. For example, Cohiba comes out with a edicion limitada only once in a few years, however in the counterfeit market you would find a Cohiba Edicion Limitada from every year. Know which dates are on which brands to protect yourself.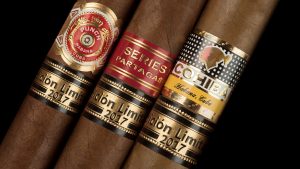 Know your boxes: Habanos prides itself on its presentation. Their most common style of presentation is labeled paper lined cardboard boxes followed by fully wooden boxes, either semi boite (box that has two rear hinges and a brooch style clasp), Cabinet boite, or a sliding lid wooden boxes for the bigger boxes, bundles wrapped with cellophane for the short fillers or cardboard packs for the smaller packagings. The one presentation style that Habanos does not do is clear packaging in any form – no glass or plastic lids ever.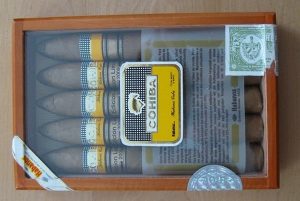 Price matters : You bought a stick of Cohiba for Rs 1000? From a friend whose friend imports it from some foreign country where the prices are much cheaper? Well, here is some news for you! There are no cheap Cohibas. Even in Cuba where the prices for Cohibas are the cheapest in the world, a stick of Cohiba roughly goes for about 25 – 30 USD. If you find anything cheaper, it's either fake or stolen.
Spot the frauds, spot the fakes: When in Cuba, if someone starts a conversation with "My sister/brother works in the Laguito factory etc etc. . " walk. .no..run the other way as fast as you can. Only buy from Government authorized sellers and no one else.
"SAFE PLACES TO BUY CUBAN CIGARS"
Now that you are aware of how easily one can get duped by counterfeit Cuban Cigars, it is time to help you find reliable and genuine sellers of these artisanal goods. Most countries have an exclusive distributor that sells original certified Cuban cigars. The details of which, you can find on www.habanos.com. The exclusive distributors further expand their wings by selling via shops, resellers, hotels and restaurants. Get that list from the distributors' portal or click on http://www.cingari.in/where-to-smoke-and-buy/ to know more.